Spiced Pistachio Coconut Milk Horchata with Rum!! Thick creamy nutty rice milk blended with spices poured over ice and served a shot of rum in it! A traditional Mexican beverage made with rice cinnamon and nuts soaked overnight and blended and served with or without booze! Thick creamy n nutty!!! Horchata it is!!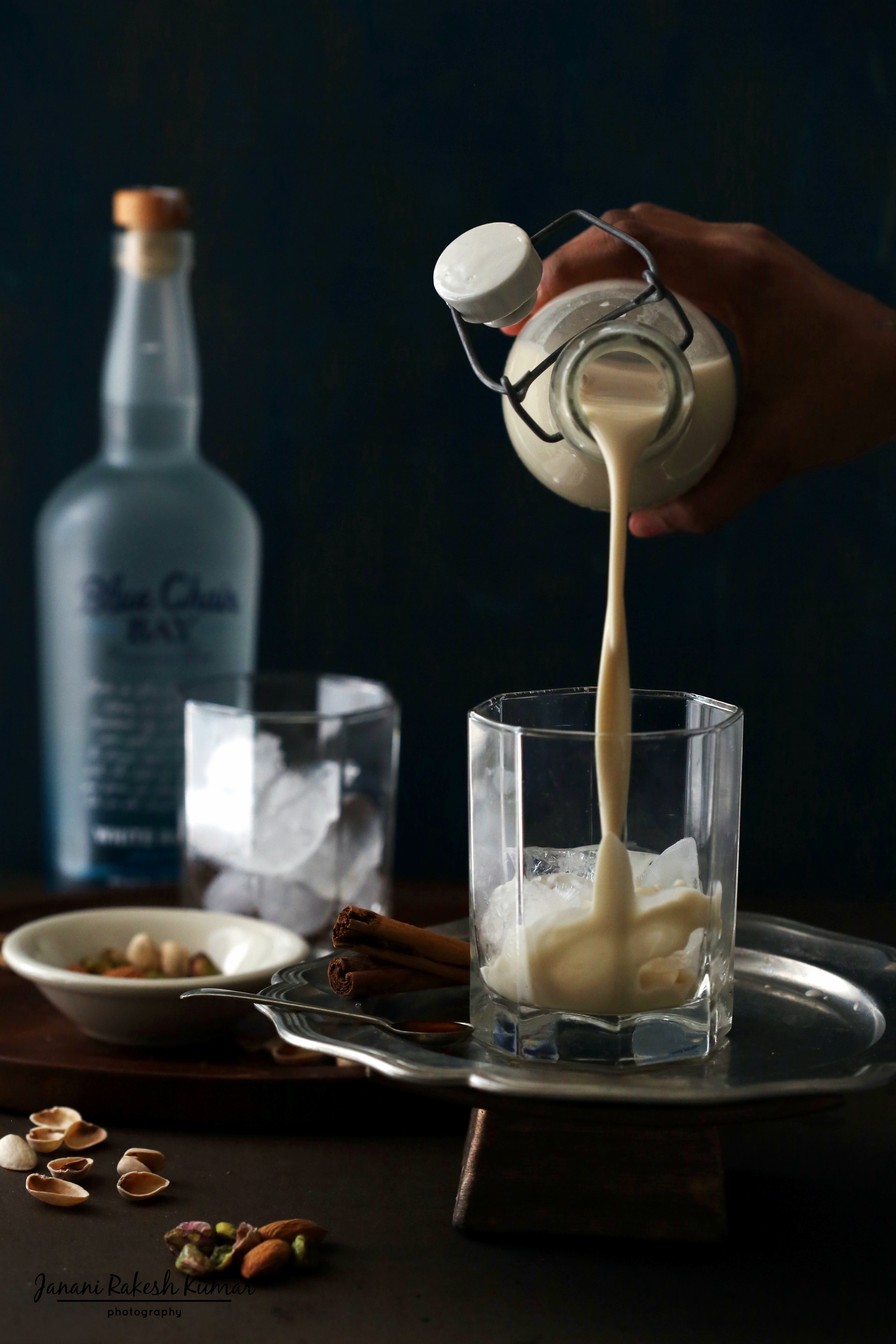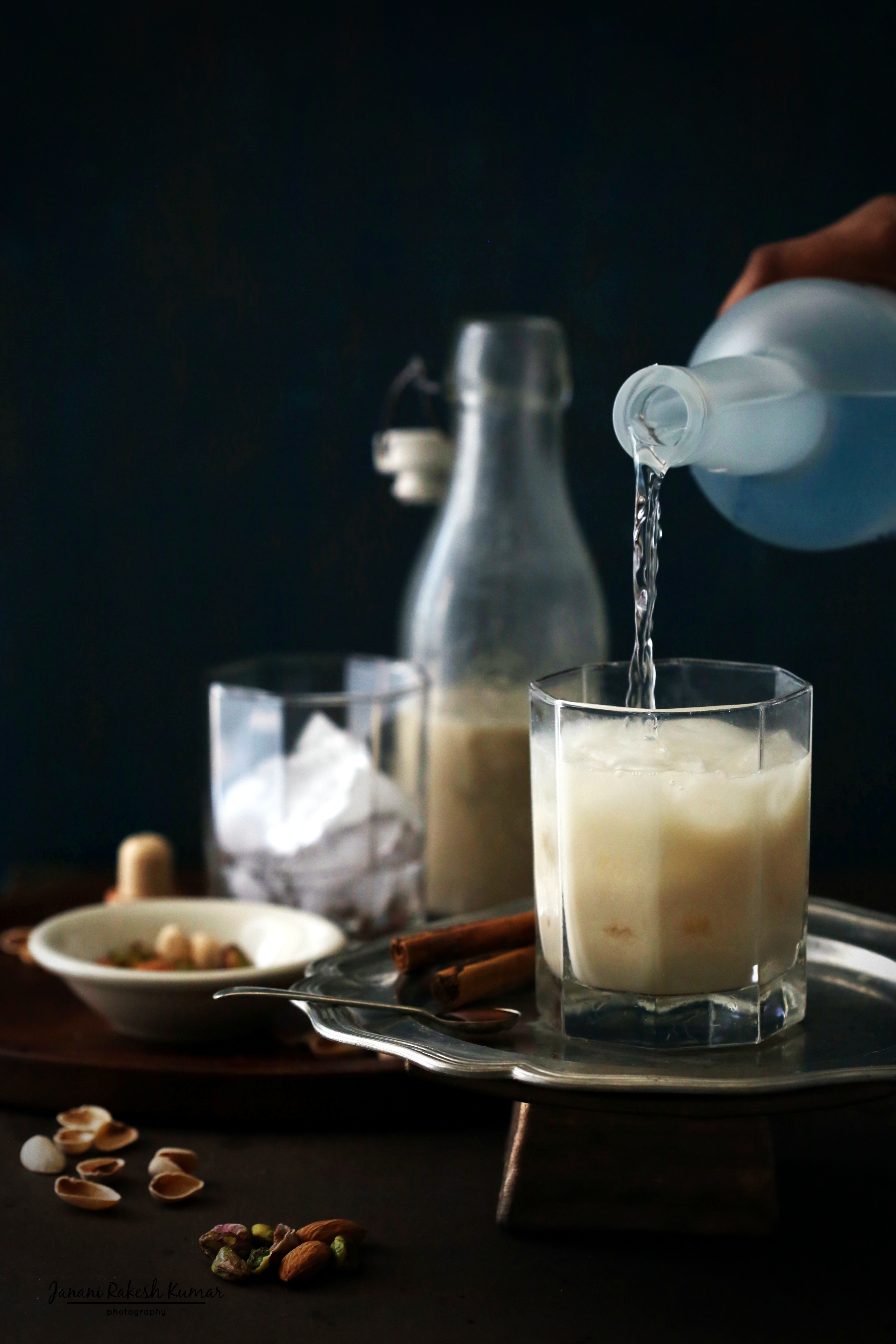 Traditionally horchata is made with rice cinnamon and almonds. The ingredients do vary from region to region. In Mexico and Guatemala, horchata is made of rice, sometimes with vanilla and always with cinnamon.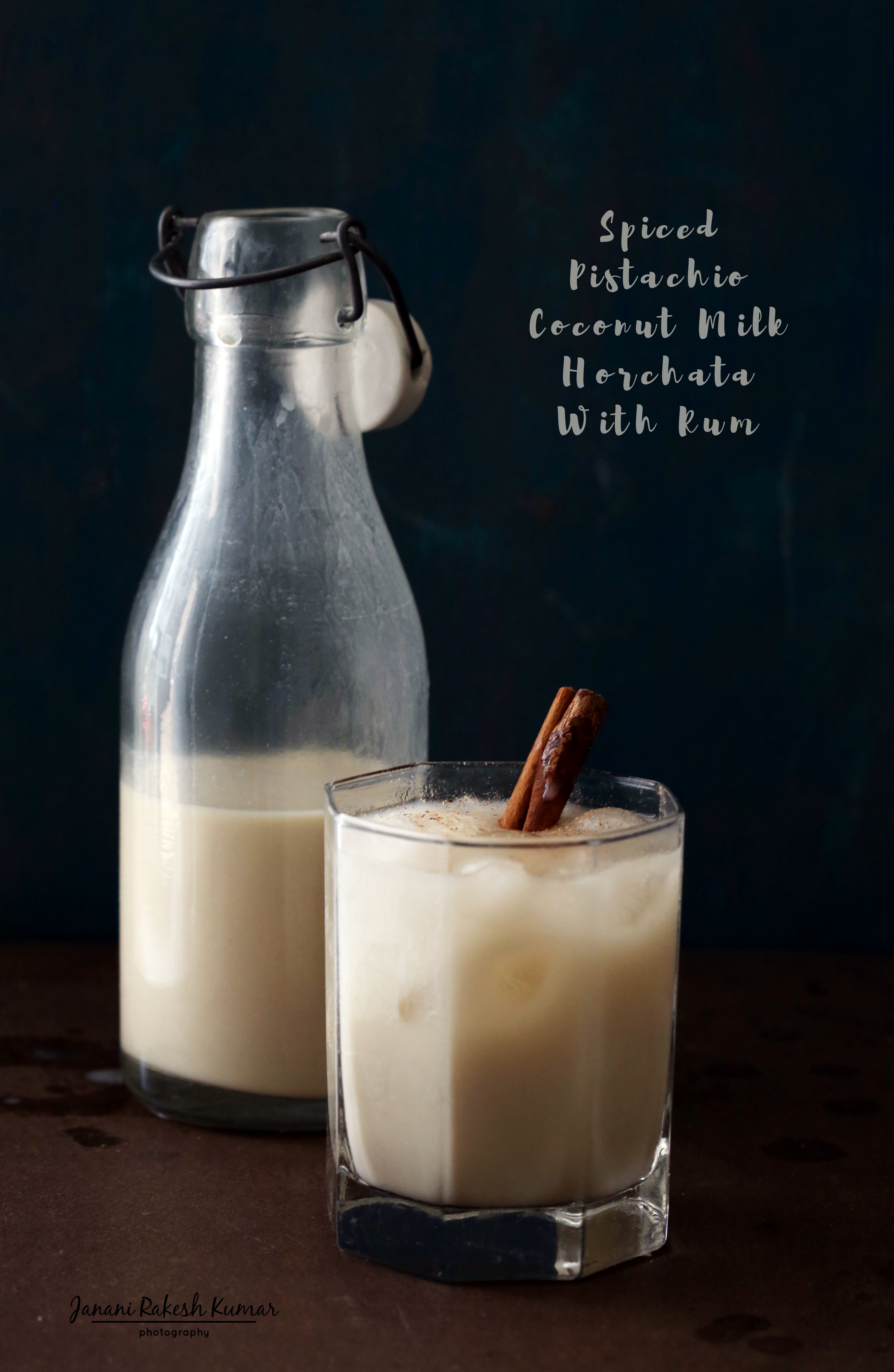 The horchata found in the south of Honduras and in El Salvador is primarily made from morro seeds, not rice. Other common ingredients include ground cocoa, cinnamon, sesame seeds, nutmeg, tiger nuts and vanilla. Other nuts that may also be used include peanuts, almonds, and cashews.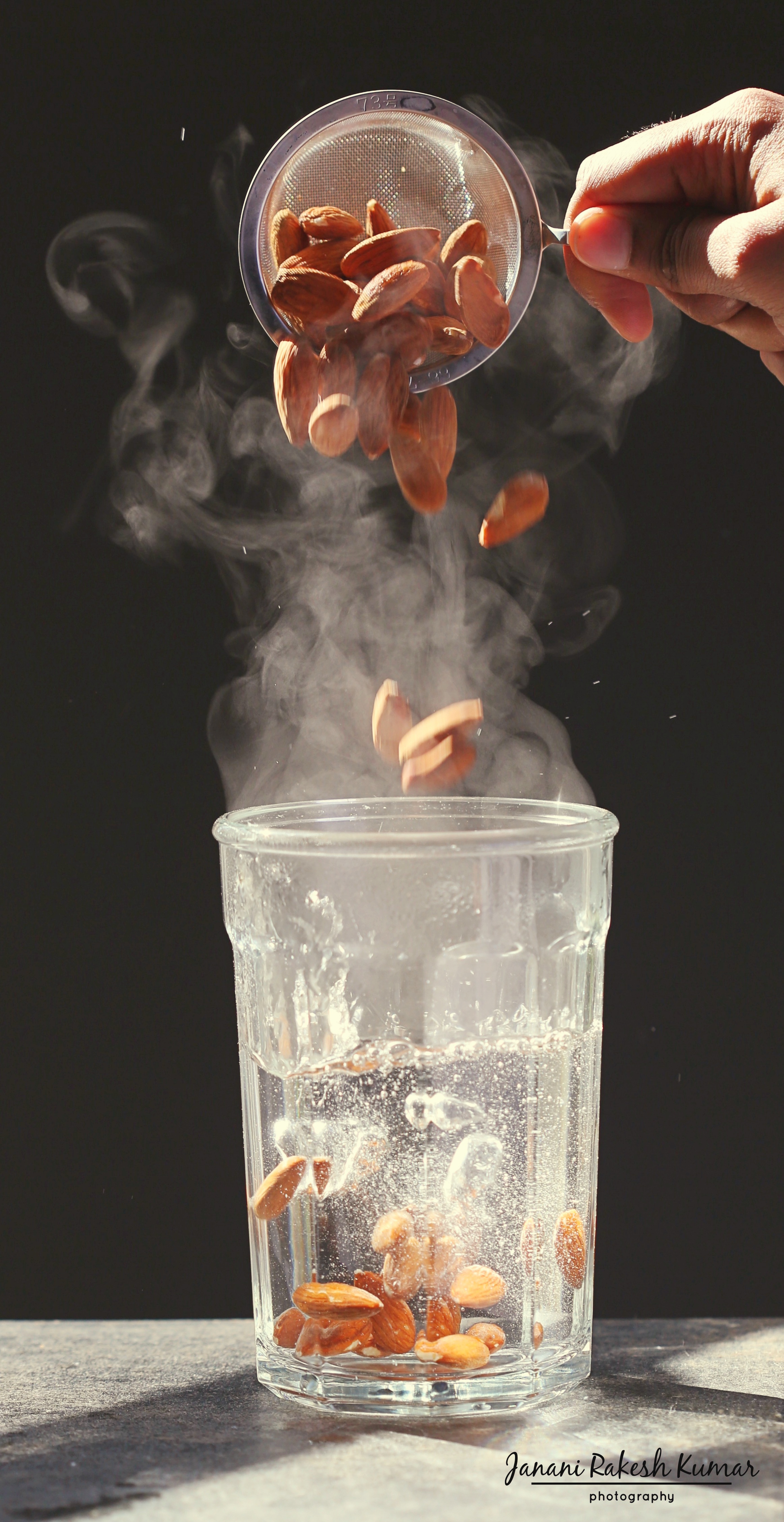 In Costa Rica, horchata is made from semilla de jicaro, with rice and spices, milk, sugar and cinnamon.In Nicaragua and Honduras, horchata refers to the drink known as semilla de jicaro, made from the jicaro seeds ground with rice and spices.
In Puerto Rico, horchata is called horchata de ajonjolí and made with ground sesame seeds. Water is boiled with sugar, vanilla, and cinnamon sticks. In Venezuela, horchata is made with sesame seeds, water, and sugar in the western area, Zulia. In Ecuador, horchata is a clear red infusion of 18 herbs and is most famous in the province of Loja. (source:Wikipedia)
To make this Mexican beverage even more flavorful I used cardamom, nutmeg and ginger . I also added pistachios to make it richer along with almonds and Ive used coconut milk for blending the soaked rice and nuts instead of water. To sweeten it up I've had maple syrup but you can use pretty much anything like brown sugar ,coconut sugar, jaggery or even dates or if u prefer u can add the little bit of sweetened condensed milk too! This drink works as a perfect vegan beverage!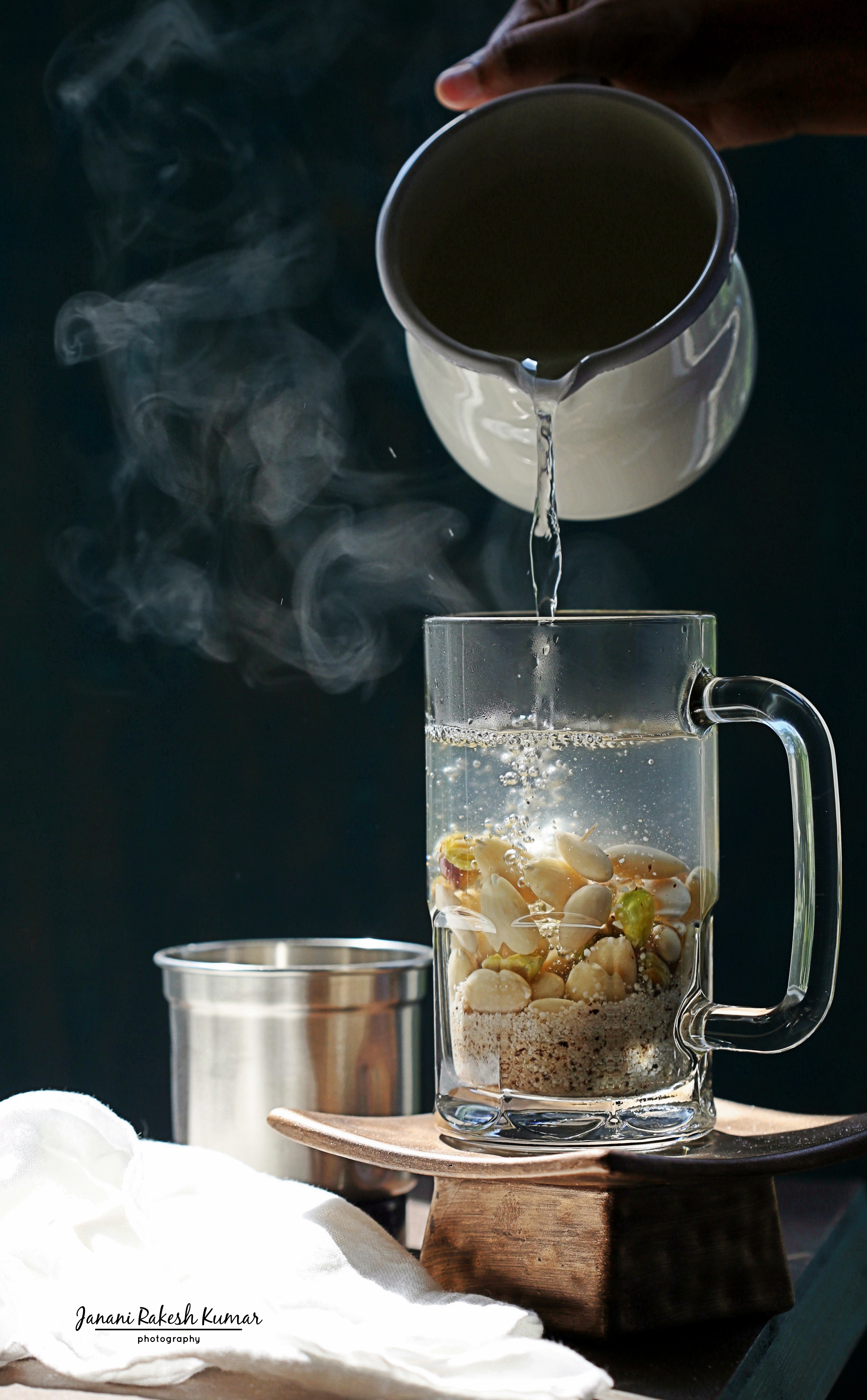 I did add a shot of white rum to booze it up but it's totally optional! You can just skip off the rum for kids and it makes a nutritional yet delicious beverage for kids who are allergic to dairy! Trust me the kids will love it!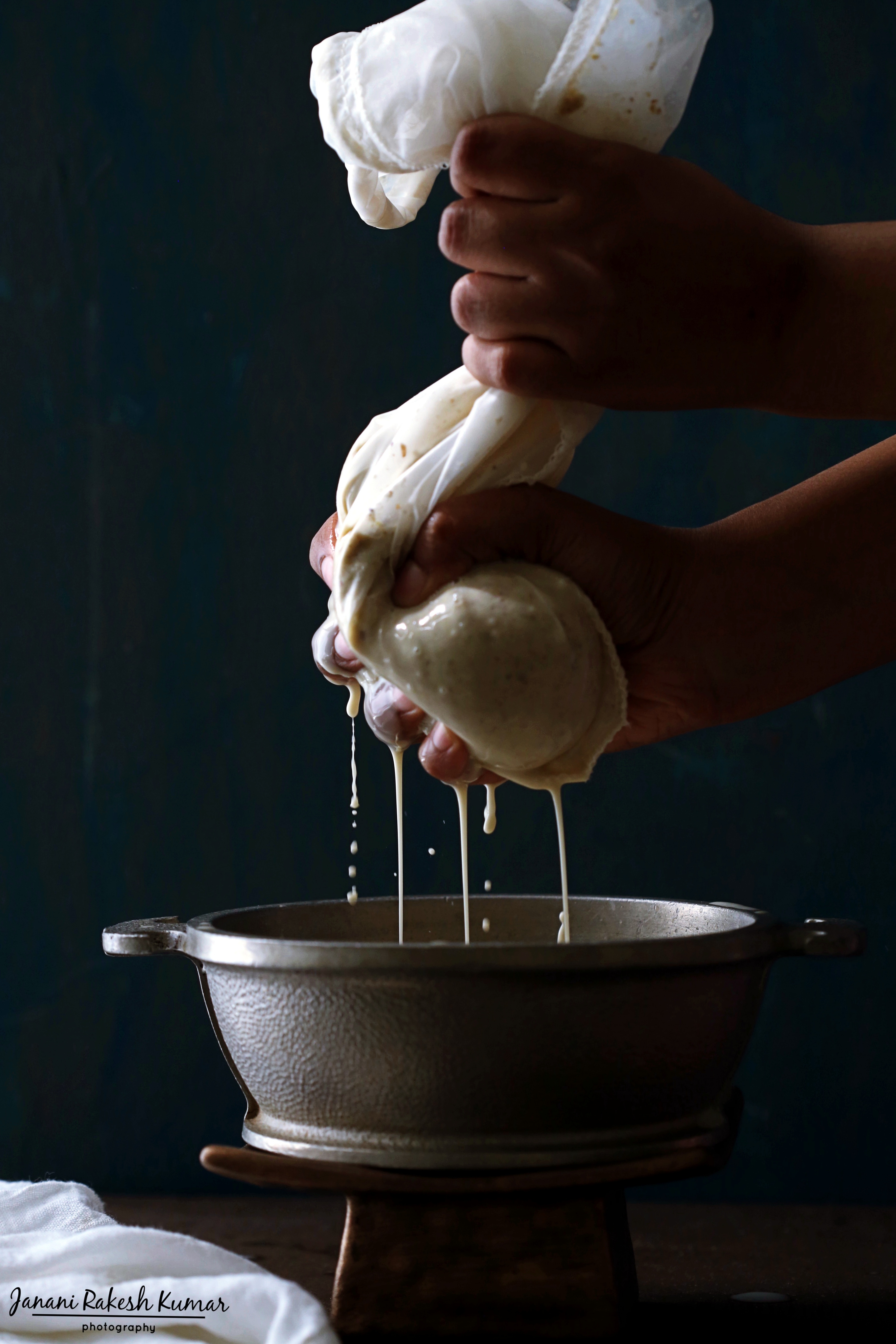 Image inspiration: Simi Jois
And Yess the grownup kids feel free to add a shot of anything u prefer jus not white rum alone. U can also try adding Calvados, Brandy or Dark Rum! It's totally optional and it's your choice!!
Here goes the recipe of this delicious beverage!
This recipe is inspired from The Bojon Gourmet.
Spiced Pistachio Coconut Milk Horchata With Rum
Ingredients
Day 1:
6 tablespoons (2.75 ounces / 75 grams) raw white rice (preferably Jasmine or Basmati)
1 fat 3″ long cinnamon stick (I used Ceylon)
3-4 cardamom pods
1 cup (3 ounces / 85 grams) blanched almonds
¼ cup (2.5 ounces / 70 grams) pistachios (raw or roasted unsalted)
2½ cups (20 ounces / 590 mL) boiling water
Day 2:
5-6 tablespoons maple syrup
2 tablespoons coarsely chopped fresh ginger
2 cups coconut milk
½ cup cool water
For serving:
ice
Rum or Calvados or brandy (optional)
nutmeg for sprinkling
Instructions
Day 1:
Grind the rice cinnamon and cardamom together in a coffee or spice blender. Place it in a heat proof bowl or jar and the blanched almonds, pistachios and boiling water. Stir it once and let it sit at room temperature for 8 hours or overnight.
Day 2:
Blend the soaked mixture along with maple syrup and ginger until smooth by adding the coconut milk and water.
Strain the mixture through a nut milk bag or strainer.
Check the sweetness and add more maple syrup if desired.
Chill the horchata until cold. It will keep, refrigerated airtight, for up to a few days. Serve the horchata over ice add a shot of rum and sprinkle some nutmeg on top and Enjoy!!