Slow Cooker Ven Pongal! – a rice and lentil risotto, a South Indian comfort food!!
Rice and lentil cooked till mushy and seasoned with a flavorful tadka of ghee tempered with cumin seeds, cashew nuts, black peppercorns, asafoetida and curry leaves! Soo warm and comforting!! Nothing like having a plate of Ven Pongal with coconut chutney!!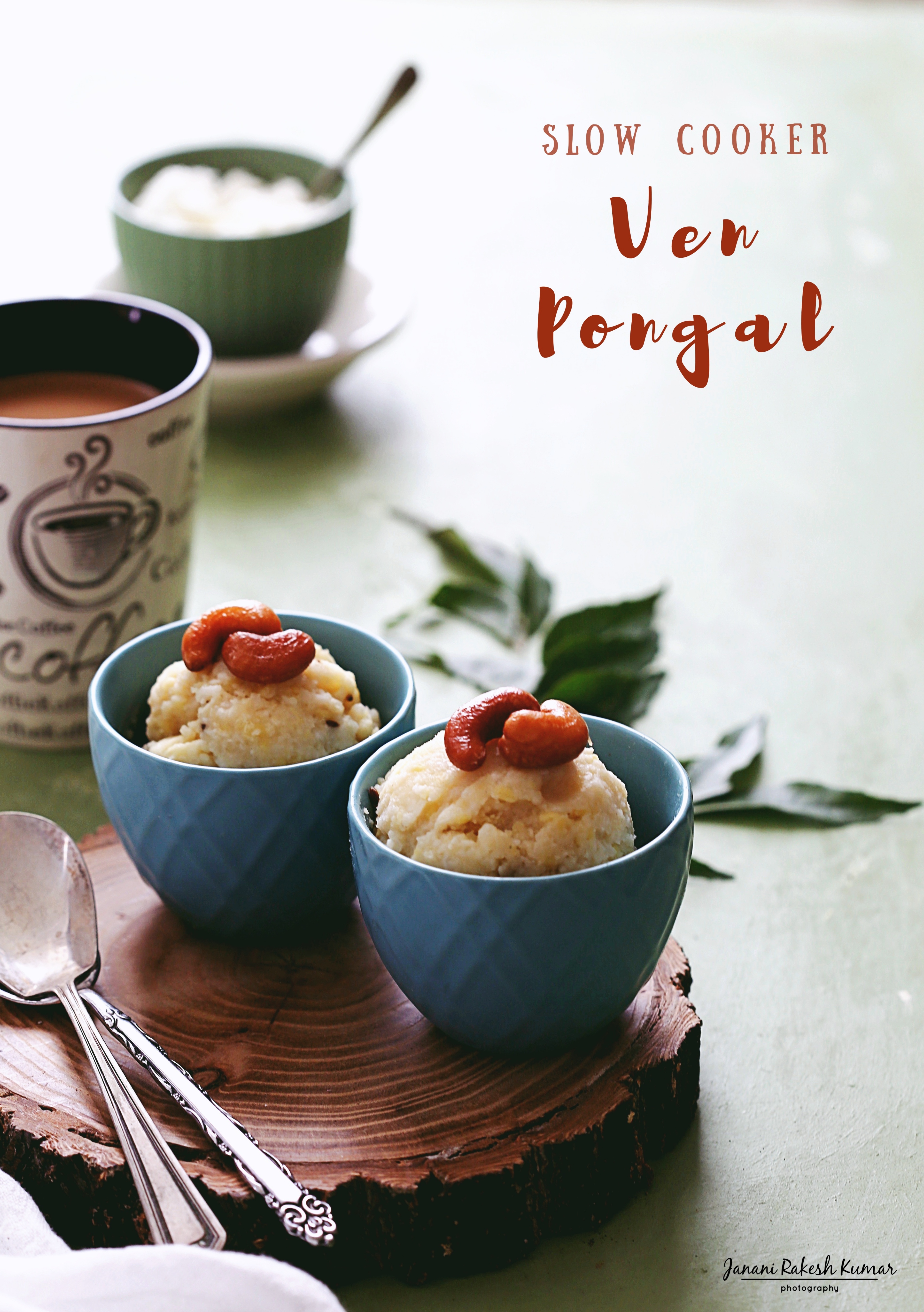 Soo many memories unfold within me when I make this comfort food at home!! Mom would make Pongal for breakfast or dinner at least two times a week or whenever we had leftover fish curry, Pongal would be the breakfast! And we used to lick the plate clean!! Guys, you should try  this combo if u r nonvegetarian!! Tastes sooo good and if you are a vegetarian try it with brinjal Kara kuzhambhu!!
This melt in mouth delicacy is one comfort food enjoyed and relished by everyone of all ages, but only when it's made right!! Don't forget to keep in mind these couple of things while you prepare it! First, the rice and lentil should be cooked till mushy! And second never compromise with the amount of ghee and lentil as these are the two key ingredients that really enhance the flavor and taste!!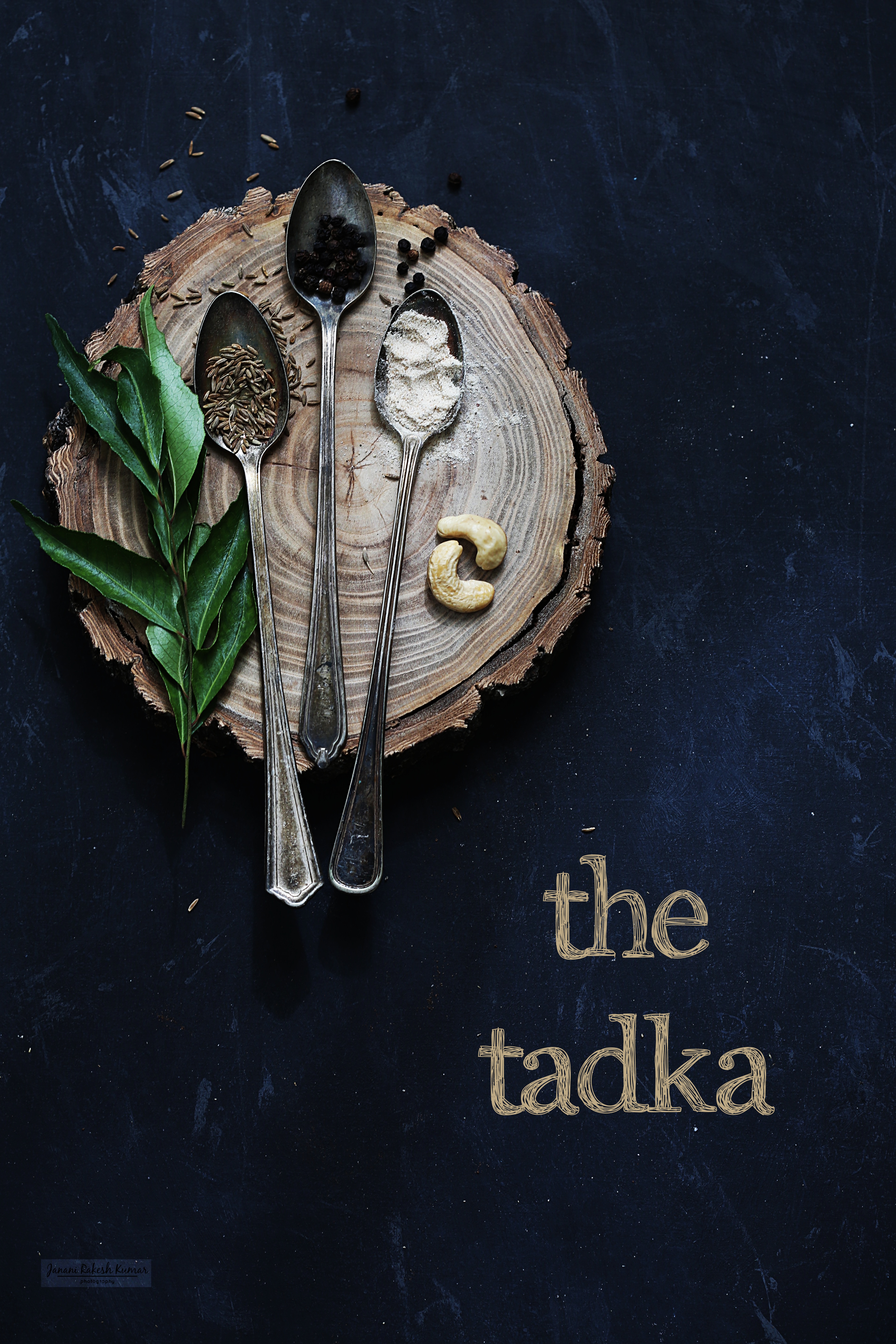 This is the first time I tried it in crockpot!! Came out just as perfect !! And crockpot makes life soo easy! Just put all the ingredients in the crockpot set the timer and forget!! Soo simple right? Seriously guys if you haven't invested in one I highly recommend it!! From lamb shanks to dried beans and lentils everything comes out soo perfect and soo good!! Easy to cook and time-saving!! This is not a sponsored post guys all the views and opinion shared are just out of my experience.
Here's the recipe to cook in both crock pot and stove top! Hope it helps!
Slow Cooker Ven Pongal
Ingredients
Rice - 1 cup
Split Yellow Moong Dal / Paasi Paruppu - 1 cup
Ghee - 4 tbsp
Ginger - 1 tbsp finely chopped
Salt - to taste
Cumin seeds / Jeera seeds - 1 tsp
Whole Black Pepper - 1 tsp
Cashew nuts - 2 tbsp
Asafoetida / Hing - ½ tsp
Curry leaves - few
Water - 6.5 cups
Instructions
Slow cooker:

Dry roast the rice and dal. Then wash the rice and dal.
add it to the slow cooker along with water, ginger and salt. Cook, on high for 4 hours.
Once the rice and dal have cooked mash them up well.

Pressure cooker method:

Dry roast the rice and dal. Then wash the rice and dal.
Pressure cook rice and dal with 6.5 cups of water, ginger and salt for 3-4 whistles.
Once the steam subsides, open the lid of the cooker and mash it well.

Tadka:

Now after the rice and dal have cooked and been mashed up, heat a pan, add ghee.
When it is hot, add the cumin seeds, cashew nuts and black pepper. Once the cumin seeds crackle, add the curry leaves and asafoetida.
Now pour the tadka, over the mashed rice and dal mixture.
Mix it well.
Serve hot with sambar, chutney , brinjal gothsu or even kara kuzhambhu or fish curry (Do try it !! It's an awesome combo!!) and enjoyyyyy!!!!