Simple Chicken Curry With Yogurt! Boneless skinless chicken thighs cooked in aromatic spices and mint with thick beaten Greek yogurt to make it a very flavorful yet a rich creamy curry!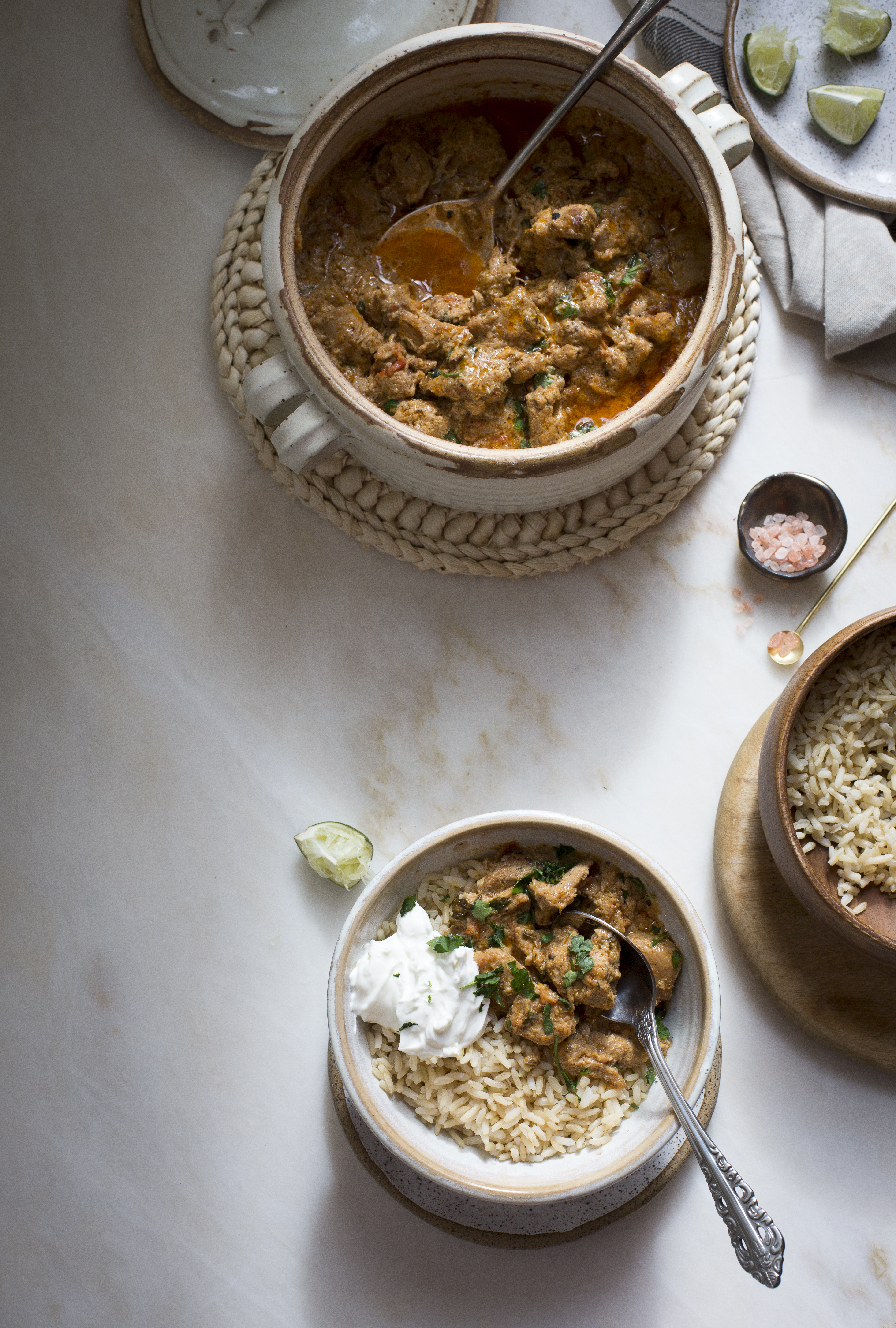 Guys this curry is very simple to make with just all the ingredients available in our pantry and nothing fancy! And this particular curry I just make it every week as we just love the simplicity of it! It's soo flavorful and aromatic and pairs soo well with anything! You can serve it with anything, not just rice. Dosas and idlis too make an awesome combo!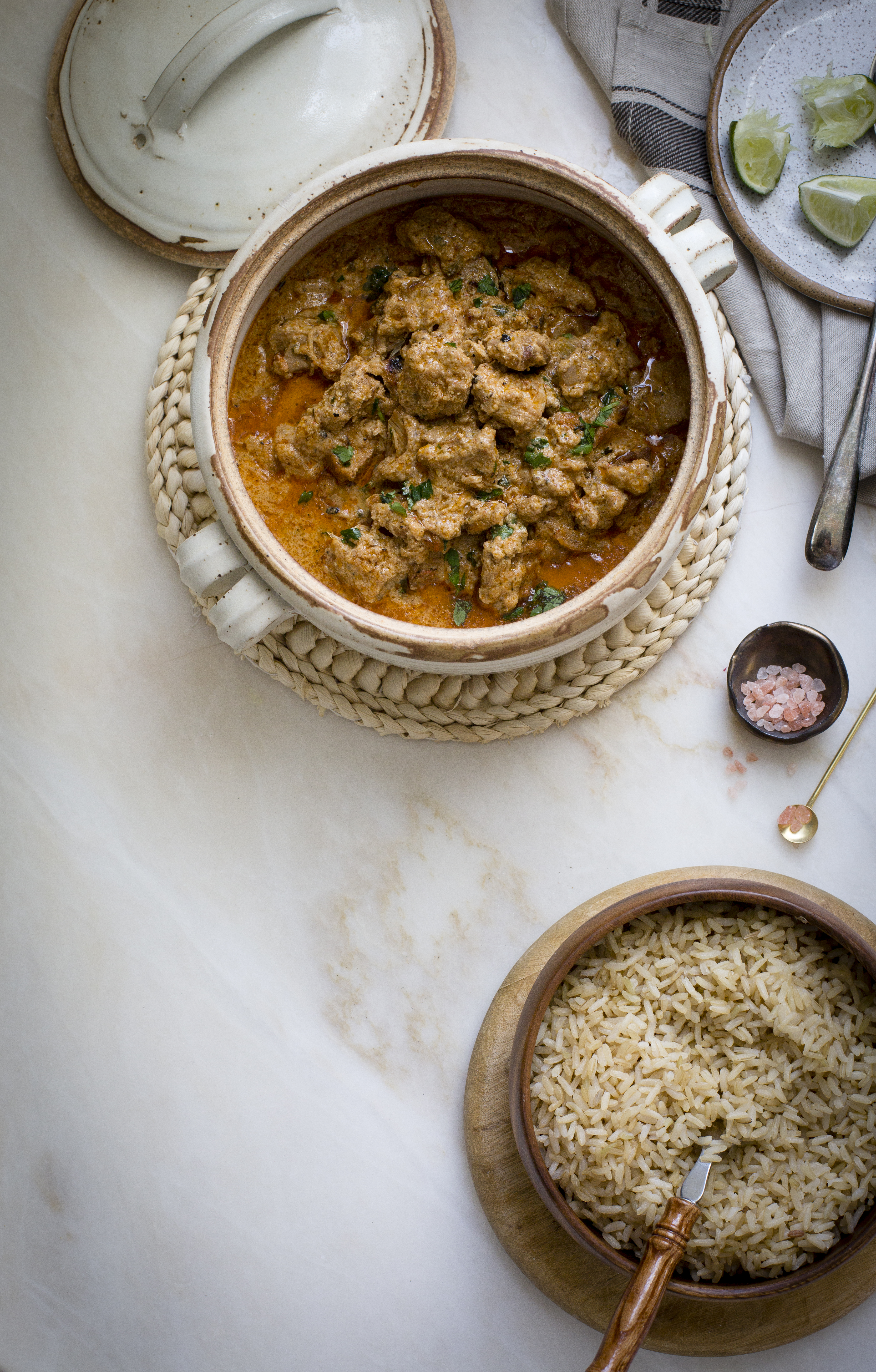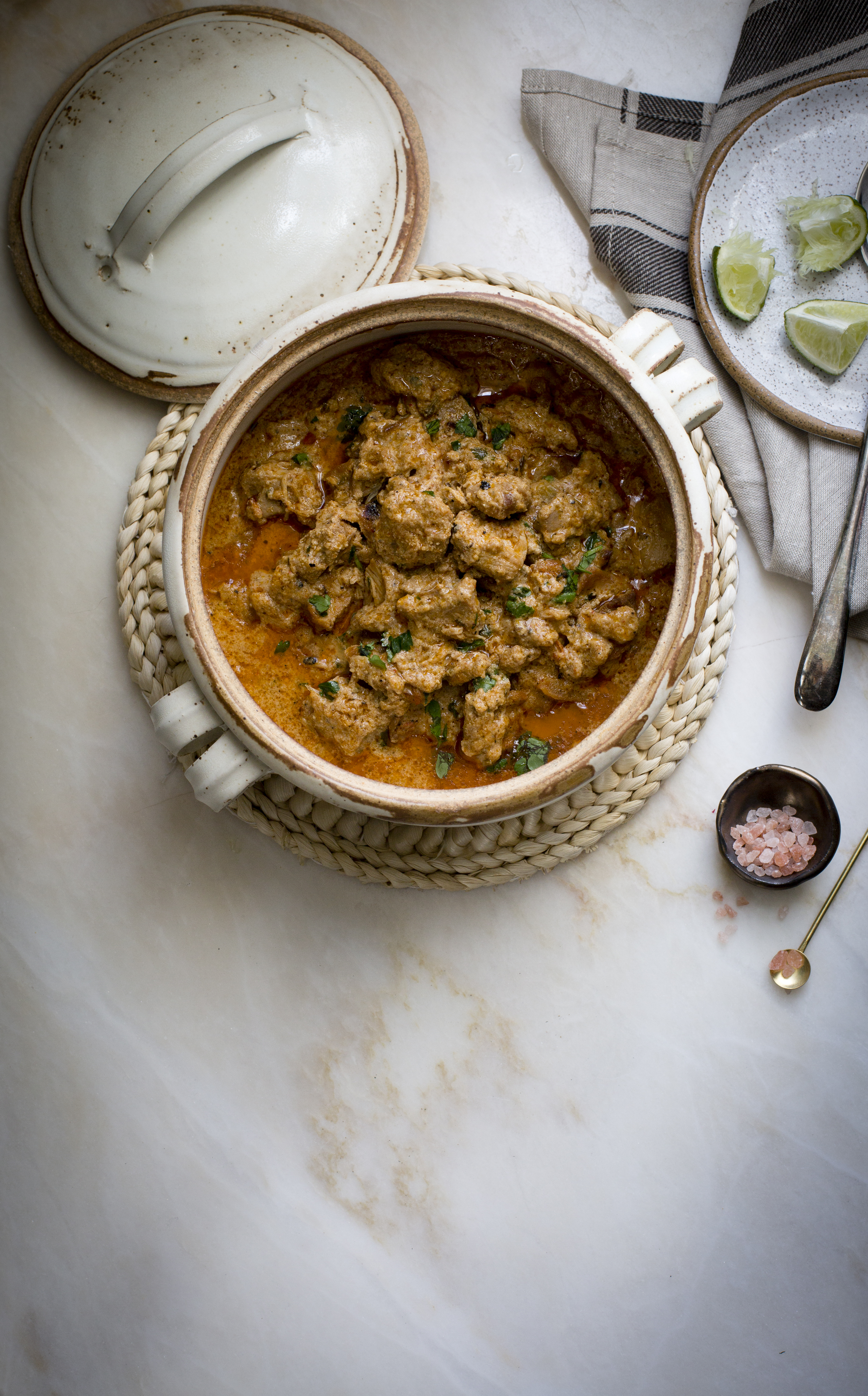 And guys it's completely fine if you don't add yogurt. It still makes a delicious curry. This recipe is my grand moms. she makes it without yogurt and calls it poona kuzhambhu!And please don't ask me why she calls this curry that way… no matter what she names it, this curry is just too delicious! We used to have it with dosas or appam every Sunday morning for breakfast with a bullseye! Oh, my what a breakfast it was! Just thinking of it makes my mouth water!
And here goes the recipe of this awesome simple and rich curry!
Simple Chicken Curry With Yogurt
Ingredients
Chicken thighs - 3lb cut into small pieces
Onion - 1 big chopped
Tomato- 3 medium chopped fine
Mint - 1 bunch washed and chopped
Greek yogurt - 1 cup beaten well
Oil - 2 tbsp
Red chili powder - 1 tbsp
Coriander Powder - 2 tbsp
Salt - to taste
Juice of 1 lime
Ginger garlic paste - 3 tbsp
Garam masala powder - ¼ tsp
Black pepper powder - ½ tsp
Fennel seeds - 1 tsp
Cinnamon stick - 1 no
Star anise - 2 nos
Cardamom- 2-3 no
Bay leaf - 1 no
Cloves - 2 nos
Coriander leaves for garnishing
Instructions
Wash the chicken well and keep aside
Heat oil in a kadhai add the fennel seeds, cardamom, star anise, bay leaf, and cloves.
Once the fennel seeds splutter add the onions ginger garlic paste and mint.
Sauté well till the onions turn translucent and the raw smell of ginger garlic paste goes off.
Add in the tomatoes. Sauté well.
Add the red chili powder, coriander powder, salt and mix well. Cover and cook till then gravy leaves out oil.
Once you see oil coming out add the chicken and lime juice.
Cover and cook over medium heat till the chicken is well cooked.
Once the chicken is cooked open the lid add the garam masala and pepper powder and check for salt. Add more if needed and simmer the gravy in high heat till gravy gets condensed to the consistency you want.
Once the gravy is done add in the beaten yogurt and mix well.
Garnish it with chopped coriander leaves and serve hot with rice, bread or dosas! Enjoy!