Rosemary Sables With Lemon Curd- buttery rosemary flavored sables with the most delicious lemon curd ever!! and I mean it, guys!! You just can't stop eating this lemon curd!! It's that addictive!! 😋😋 smooth creamy buttery and lemony!! Perfect with these buttery shortbreads!!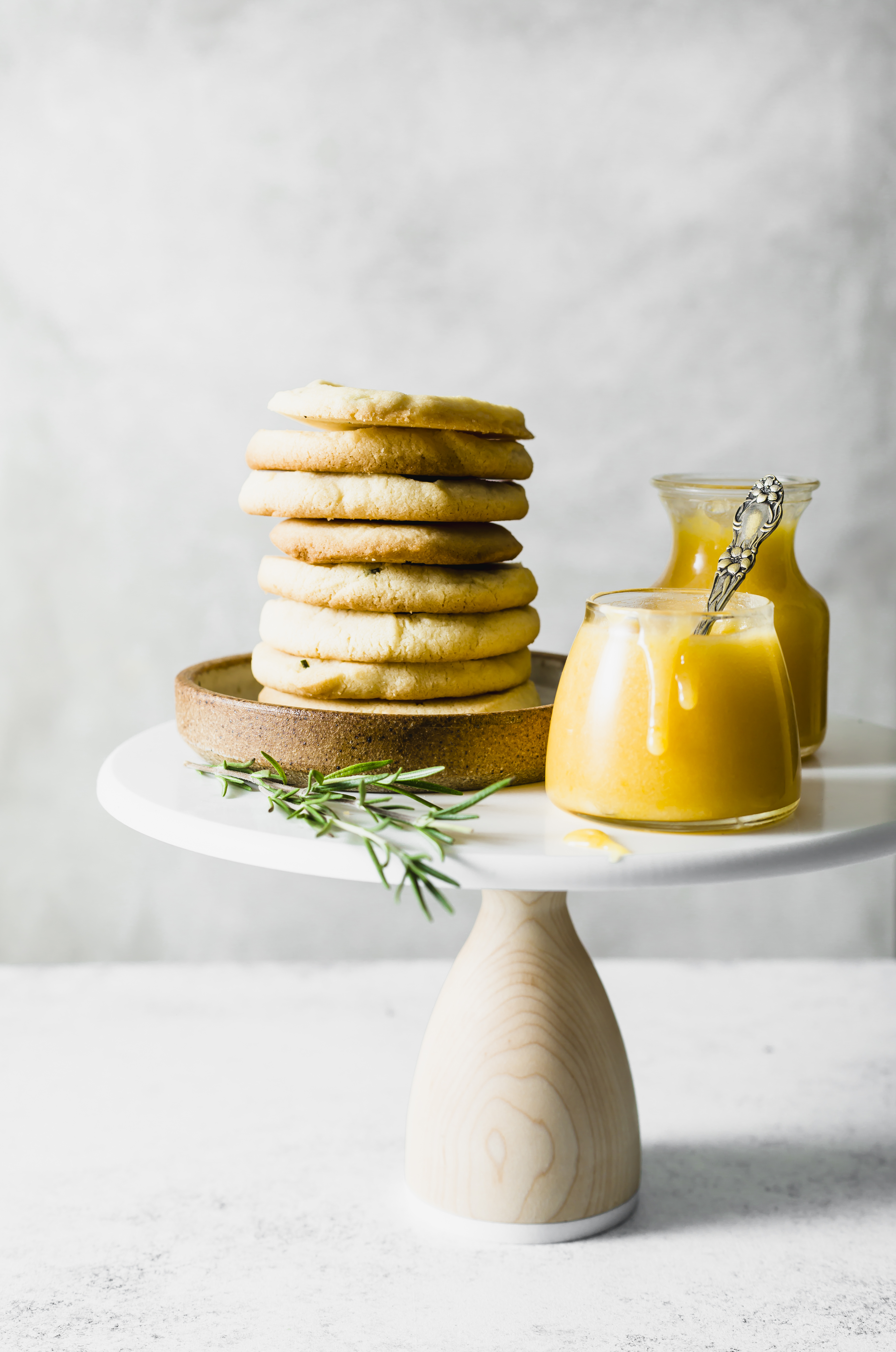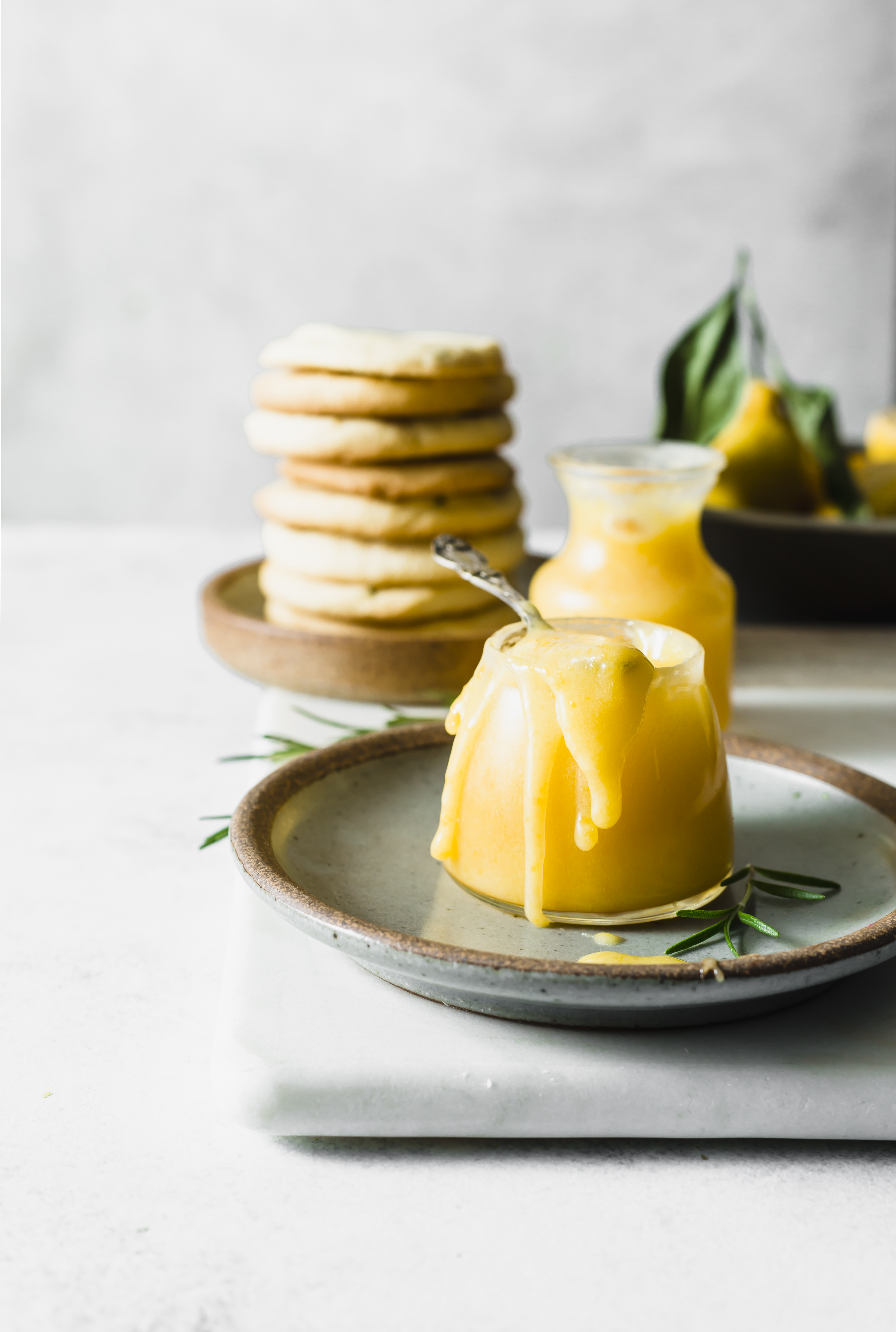 These sables I must say the best recipe ever!! Why do I say that because it's a toddler approved recipe and for my little fellow to enjoy them it has to meet all his expectations of a shortbread – buttery and not too sweet at all!! And you know what it did and he finished the entire batch by himself🙈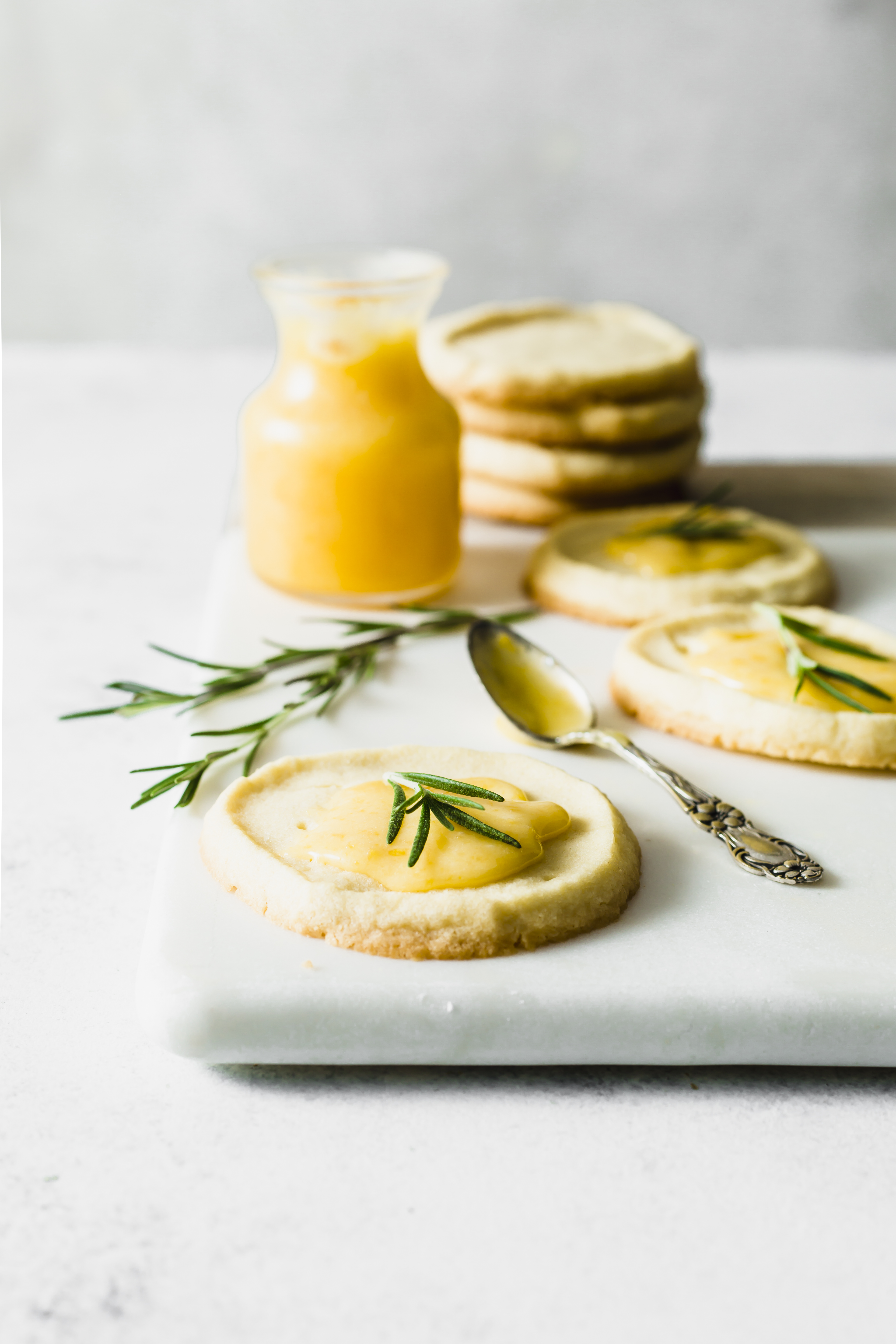 And that lemon curd too good guys!! That color texture being smooth and that butter flavor !! Can't say more!! You have to try them out!!
Rosemary Sables With Lemon Curd
Ingredients
For the sables:
All-purpose flour- 2 cups
Unsalted Butter- 1 cup softened
Salt-1/4 tsp
Sugar-1 cup
Egg yolks-2 large
Vanilla extract-1 tsp
Fresh rosemary -1 tbsp chopped
Lemon curd:
Sugar-2/3 cup
Large Egg yolks-4
Zest of three lemons
Lemon juice-1/3 cup
Salt-1/8 Tsp
Unsalted butter-6 tbsp softened sliced
Instructions
For the sable cookies:
In a bowl whisk together flour and salt and set aside.
In a mixer fitted with a paddle attachment cream together butter and sugar until creamed and not fluffy. Mix in the egg yolks and vanilla until combined.
On a low-speed mix in the flour mixture and rosemary. Once the ingredients are mixed well turn the mixer to medium-low and mix until they form a dough. Don't over mix.
Then split the dough in half and make two logs about 11/2 inch to 2 inches in diameter and wrap them well with clear wrap seal the edges and refrigerate them for at least three hours or overnight.
Preheat the oven to 350f.
In a baking sheet lined with parchment take one log out keeping the other log in the refrigerator, open the wrap and trim the edges with a sharp knife and slice the coins about ¼ inch to ½ inch thick and place them in the prepared sheet 2" apart. Bake them for 12 - 15 mins until the edges are slightly browned. Repeat the same with the other log!!
Lemon curd:
Place a pan with 2" water and bring it to boil. Once the water starts to boil place a glass bowl on top of the pan( double boiler method).
Add all the ingredients except the butter in the glass bowl and whisk thoroughly.
Keep whisking for about 20 to 30 minutes to get that lemon curd consistency.
Continuous whisking prevents the eggs from curdling and gives the curd a smooth texture.
Once you get the consistency remove the glass bowl from heat and whisk in the butter slices one by one till all the butter have been mixed well.
Since the zest I used was finely chopped I didn't have to strain. But if your zest is really big strain the lemon curd at last.
Pour the curd into a jar and place a piece of plastic wrap directly on top. This is to avoid the layer formation i.e. A skin that occurs after the curd has cooled down.
Enjoy with sables toasted bread or on it own!!
Recipe from
here
and
here
!