Palak Paneer – Blanched fresh spinach cooked with mild spices, puréed and topped with grilled Paneer and fresh cream and garnished with crushed dried fenugreek leaves!! Healthy and soo addictive! Best had with naan or roti! Even a fussy spinach person wouldn't say no to it!!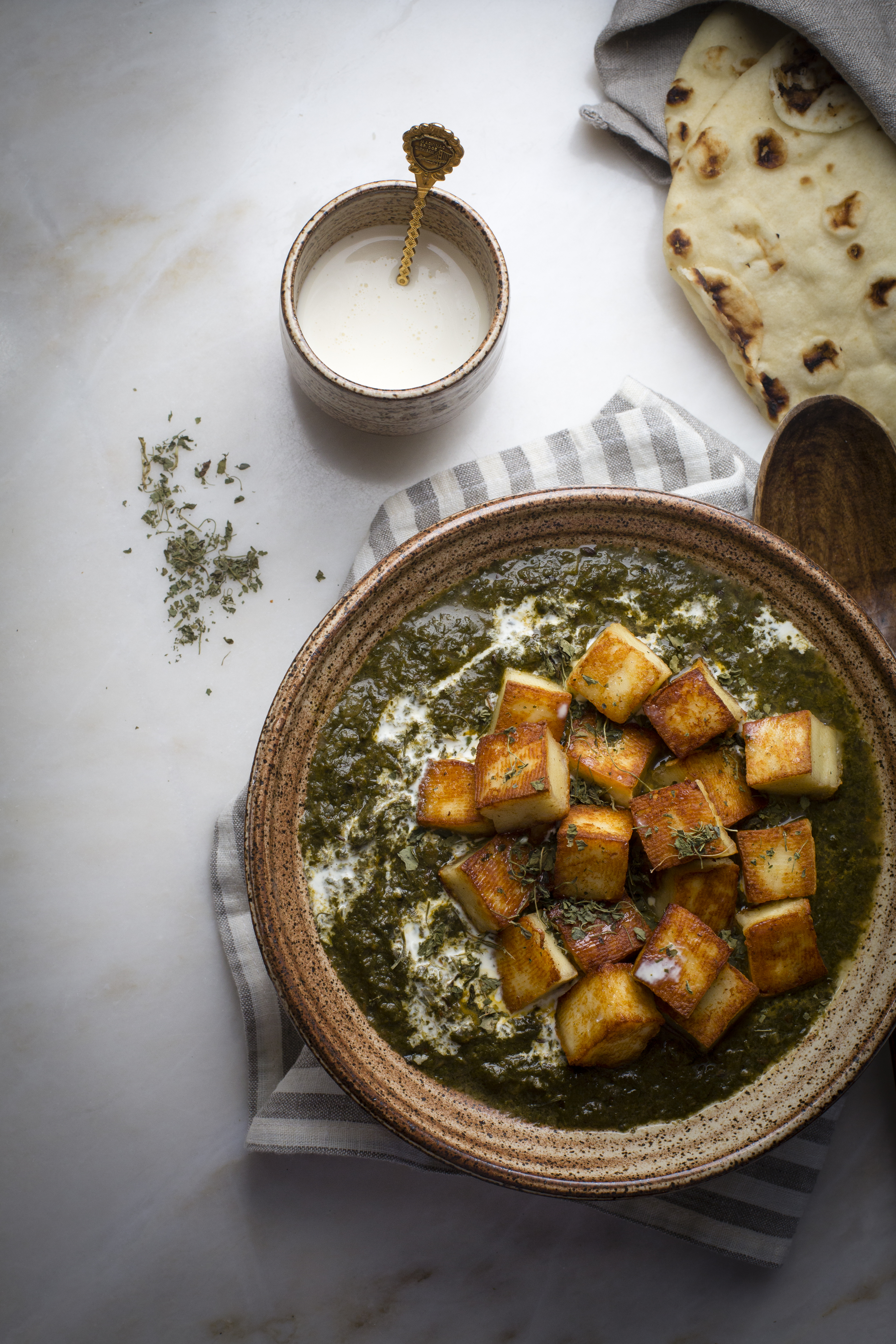 Guys this recipe is just soo simple to make and nothing complicated.. you can use both homemade paneer or store bought ones. If you are using store bought ones just immerse them in hot water for ten minutes before you use them. By doing it this way you kind of soften the paneer and it does taste much better than adding it straight away which was refrigerated.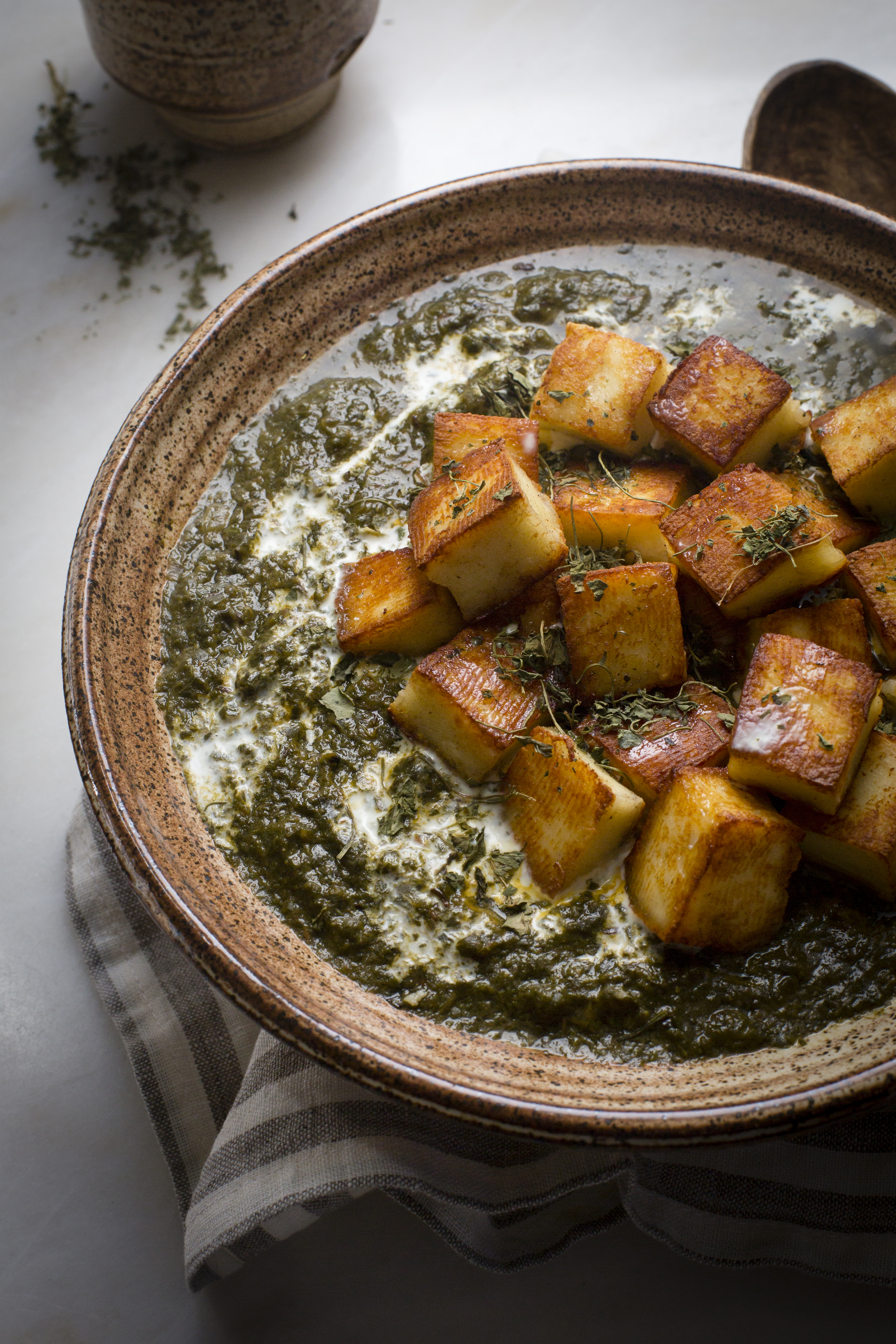 Some people prefer pureeing the spinach but some don't .. they like the texture of chopped spinach in the gravy! I've puréed the spinach as I like the creamy texture but if you like it chopped you can make it that way. It's just a personal choice… You can either fry the paneer in butter ( only butter guys I did that😋😋) or you could just add them without frying. It's totally optional 😉 It tastes divine when had with naan or cumin rice 😋😋😋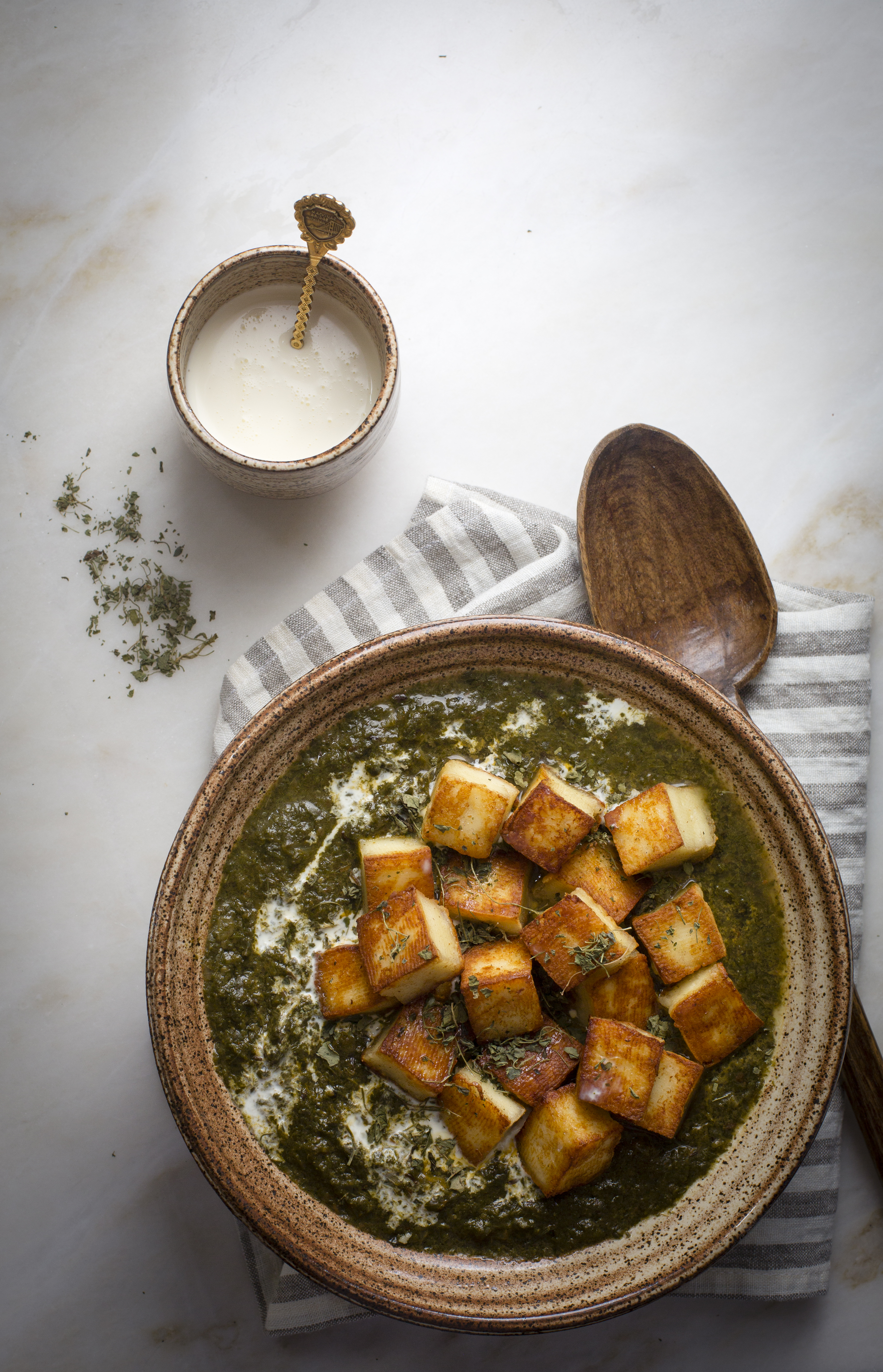 Now here you go…

Palak Paneer
Ingredients
Fresh baby Spinach - 1.5 lb
Ginger garlic paste- 1 tbsp
Red onion - ¼ cup chopped
Tomato - 2 big puréed in blender
Cumin seeds - 1 tsp
Bay leaf - 1 no
Red chili powder - ¼ tsp
Cumin powder - ¼ tsp
Paneer - 500 gms cubed
Fresh cream - ¼ cup
Green chili - 1 small
Garam masala powder - ¼ tsp
Dried fenugreek leaves - 1 tbsp
Sugar - 1 tsp
Butter - 2 tbsp
Salt
Butter for frying paneer
Instructions
To a pot of boiling water add the spinach and switch off the flame. Let the spinach sit in the boiling water for five minutes. Then remove the spinach and purée it in the blender.
Heat a pan and add two tbsp of butter. Once the butter melts add the cumin seeds and bay leaves.
Once the seeds splutter add the onions green chilies and ginger garlic paste. Sauté well till the raw flavor of ginger garlic paste goes off.
Now to that add the puréed tomatoes, salt, red chili powder and cumin powder.
Cover and cook till the mixture ooze outs oil.
Meanwhile, while the mixture is cooking, heat a pan add butter and grill the cubed paneer till nice brown color and set aside.
Now once the mixture is cooked add the puréed spinach and simmer for few minutes. Check for salt.
Add the cream mix well. Now add the grilled Paneer and simmer for a minute. Garnish with crushed dried fenugreek leaves.
Serve hot with naan! Enjoy!!